Recently I have been leaving the four walls of my office and making my way to business related events in the area. As I have been increasing my networking, I am beginning to realize that the world is a very small place and that everyone is connected to one another in some way. That connection often lets people open up to one another, starting conversations around topics that are troubling business owners on a day-to-day basis.  After spending some time listening, the message I hear at these events is often the same: How do I, as a business owner, bring more traffic to my site and bring more customers to fill my pipeline.  As business owners, we have metrics, statistics, analytics – the list goes on – describing how to make these things happen.  The bottom line – Staying in touch with your customers as well as building a good database of clients past, present or future helps you bridge that gap.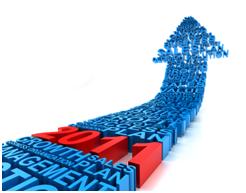 Search engine optimization (SEO), social media, email marketing, Google rankings and market research can all help your business to grow in one form or another.  Don't make the mistake of rushing in to try and work on all of these areas at once – you may feel completely overwhelmed.  Instead, have someone outside of your company or someone with fresh ideas help you develop a strategy to achieve what you feel your company needs to move forward.
Once you invest time in the strategy and to get clarity in your message and vision, your focus to improve your SEO, social media, and use of other tools of the internet will fall into place much more easily. This will leave you more time to go out and network and obtain new business to reach your ultimate goal: Business growth today, tomorrow and into the future.