Have you heard of Klout? In its own words "Klout measures influence online using data from your social networks. Anywhere you have an online presence, you have the opportunity to influence people by creating or sharing content that inspires actions such as likes, retweets, comments and more. The more engagement your posts receive, the more influential you are. Klout uses this information to provide you a Klout Score that measures your overall influence."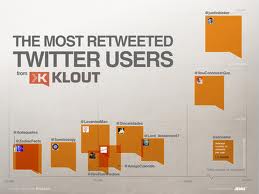 The score is from 0-100 – the higher your score, the more influential you are in their calculation. The average score is 20 (not 50) and ranked by Twitter retweets, Facebook Likes, LinkedIn comments, Google+ comments, and Foursquare tips. I just downloaded Klout for Twitter which shows someone's Klout score on Twitter next to their photo. My Klout score isn't great, but I'm not surprised because I'm not active.
According to a feature in Wired magazine, "At the Palms Casino Resort in Las Vegas last summer, clerks surreptitiously looked up guests' Klout scores as they checked in. Some high scorers received instant room upgrades, sometimes without even being told why. According to Greg Cannon, the Palms' former director of ecommerce, the initiative stirred up tremendous online buzz. He says that before its Klout experiment, the Palms had only the 17th-largest social-networking following among Las Vegas-based hotel-casinos. Afterward, it jumped up to third on Facebook and has one of the highest Klout scores among its peers." A company called Wahooly gives people with Klout scores equity positions in startups in return for attention. Some people are using Klout scores in job applications.
Klout presents an interesting issue. We want to know who influencers are in our circle, and to measure our online efforts, but in ranking people, are we actually discovering who is most active, rather than who's making the most helpful contribution? As Wired noted, those with good scores tend to echo each other, whereas those with lower scores have unique and obscure posts.
It's too early to tell if your Klout score is a deal maker or breaker. Will keep you posted.