Last night, I attended a fundraiser for Family Promise of Gloucester County, Taste of South Jersey. I am on the planning committee for the event, and as a result was looking forward to having it behind me. It was very successful, with a sold out crowd, excellent food from great restaurants, and even a few words from Karen Rogers, the weekday traffic and weather anchor for Action News Mornings.
I had the opportunity, during the festivities, to witness some good, old-fashioned social networking.  The kind you do face to face, not Facebook to Facebook! Parties of 8 or more could reserve a table, and many groups did that.  Which means that they somehow connected prior to purchasing their tickets to coordinate.  One table in particular, came with fun party hats, and small gifts to exchange with one another.  Their reasoning was that since no one in the group ever wins a raffle at the event, they would just have their own prizes in addition to donating their money to the raffles.  Everybody wins!
Other tables consisted of supporters in smaller groups who did not reserve a table, and connected with others in the same situation. I saw lots of handshakes and hugs exchanged at the end of the evening by these folks.
Even the chefs, who had come to donate their delicious food, wandered the hall before the ticket holders were granted entrance and greeted one another by name with hearty hand shakes and back slaps and wishes of Good Luck.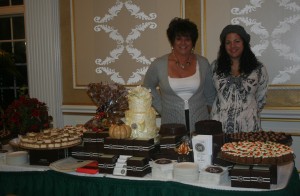 Just as you may suspect, some of the best networking was done during the event.  Each chef chatted with the patrons, and patrons asked questions or commented on the food, munching all the while. We encourage the supporters to visit the restaurants that shared their bounty to help the homeless. Who knows, someone may even mention them in a blog post!
I was privy to these networking exchanges as I wandered the Ballroom at Adelphia taking pictures. I chatted with most of the chefs, and snapped their pictures. At the end of the evening, the fine people from Classic Cakes presented me with a cookie tray to bring home, as a result of the conversation we struck up early in the evening.  The sweet rewards of social networking!
Dinkum Interactive supports Family Promise of Gloucester County by hosting the awesome website they designed and launched at http://www.familypromsegc.org