Tis the season for expressing gratitude, and we have much to be thankful for, here at Dinkum.  Our clients are the best and we are grateful to each one for trusting us to partner with them to raise the visibility of their websites.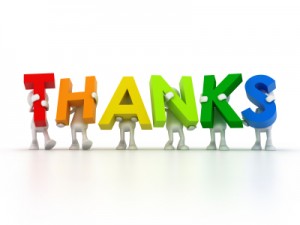 Rick, usually a man of many words, is thankful for "Great people around to work with; both clients and Dinkum folk."
Paul added that he is thankful for friends, family, clients, and the like.
Jacob is thankful for the partnerships he has forged with Dinkum's great clients, which allow him to learn something new every single day.
Meg was just too thankful to use actual words, but we get the idea!
Kerri tells us, "I am thankful for being able to be a part of such a fun and amazing team of people for this past year; I am also thankful for being able to do what I love to do and for the opportunity to learn something new every single day."
Kelly shares, "I am thankful for the opportunity to work with such a fun and talented group of people. It makes my job that much more fun."
Our crack Content Specialist, Jen, says, "I've had the great fortune of moving to one of the most exciting cities in the world, of working for an incredibly diverse range of clients who've understood my Australian accent (mostly), and worked with a great bunch of colleagues. Does it get much better than that?"
I don't think it does get much better than that! And I and grateful to be able to  echo each and every one of these sentiments.
So enjoy your Thanksgiving feast and thanks for being part of our world!