Today Dinkum is pleased to welcome Guest Blogger, Whitney Hoffman! Sit back, read and enjoy.
The online world shines a light on everything we do, personally or professionally.  This means your greatest successes and your greatest failures will be with you forever.  This double-edged sword on the Web means that you only have one choice left- Be Great or Go Home.
As my friend Chris Penn and I often remark, the first rule of business is Don't Suck.  The second rule of business is See Rule 1.
It used to be okay to put out mediocre products, and figure you'd earn enough to make it worth while, and while it wasn't perfect, it was the best you could do, and that was fine.  You could do what you thought was best and not worry about delighting the customer- after all, once the transaction was completed, if they were unhappy, they wouldn't come back,  And if you sold stuff they really needed, they would have to put up with the way you chose to do business.
The web now makes it easy for any customer, for any product, to find something better with a few mouse clicks.  And to top it off, they don't even need to get out of their jammies to do it.  They can even leave recommendations or tales of woe on the web, warning others away from your business from their phones, tablets- they don't even have to be mad enough to write a letter or wait until they get back to the office to send an email.  The "in the moment" annoyance can be shared and broadcasted in real time.  As a result, you may be losing customers you never even knew you had an opportunity to have, based on every day interactions people have with your business.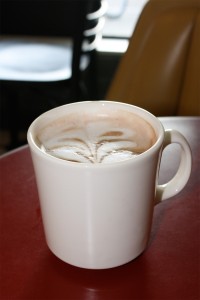 The good news is that as a result, people also love sharing great and remarkable experiences every day.  When someone takes the time to do something special- like the Barista, Shane, at my local Brew Ha Ha coffee shop, who makes designs ranging from guitars to pumpkins and beyond in the latte foam- we love to share these moments of pleasure just as much as the bad stuff.
What Apple and Steve Jobs understand better than most other companies is that your product/service/system/software/website has to work for your customer.  They have to be able to get what they need, quickly, easily, and without frustration.  Intuitively, without an instruction manual, of at all possible.  The genius of Apple is that it just works, and after all the frustration people have with the alternatives, they fall in love with the product that just does what it says its going to do and gets out of the way.
This means in order to make sure your business is successful, you have to take the customer's perspective.
How does a customer interact with you at first?
Can they easily find out information on how to contact you on your website?
Do they talk to a person, or an automated voice?
Are the first or threshold experiences a customer might have pleasant, or is that person at the front desk just a little rude?
Do your customers feel pressured to convert, or do they feel you are trying to help them and make their lives easier?
Would you want to do business with your company?
One way to test how others see your business goes beyond customer surveys.  Sure, your current customers will tell you what they think you want to hear, but what about those you aren't yet doing business with? How does a stranger see your business?
The first thing we recommend is to have a friend or even a stranger act like a secret shopper for your business.  Have them walk through your business as a customer, and maybe even with a camera, and document the experience.
If they call you on the phone, how do they get treated?
If they send a message by email, social media, or other method, how long does it take to get a response, if they get one at all?
Is there anything they don't understand on your website?
How does it look from 20 feet away?  Is the message of what you want people to do on the site clear?
How does your product arrive?  Is the packaging difficult to open?  Does it add to or detract from the product itself?
How are transactions handled?  Can someone buy something if they need to, or are the clerks and sales staff always pre-occupied?
These are just some of the questions you need to ask yourself in order to see your business from your customer's point of view.  Where are the pain points- where someone might get frustrated and click away or leave a store?  What seems like a turnoff?  What's great?
One way not to suck, then, is simply be a business that you would want to do business with, time and again.  Treat customers like family, and potential customers just as well, because the word will spread.  When everyone feels like they can get business accomplished and get on their way, they're happy.  Remove the pain points that make doing business with you difficult.  If you support your stuff after the sale, (and I hope you do…) that's even better, as long as it's not pushy and leads with helpful.
This is a time where reputation precedes you, and people know more about you before you do business than ever before.  It's critical that you can see yourself through their eyes, empathize, and do what you can to improve the rough edges that make conversion and delight harder to achieve.  Your current customers and all those new ones will thank you for it.  And even better, they will help spread the word better than any pay per click ad ever will.
Whitney Hoffman is all about managing attention by creating compelling content and educating the "customer"- whether that customer is a business partner, a true customer, or a student.  Her podcast, The LD Podcast, features interviews with experts on learning disabilities and learning, along with conversations with parents, therapists and other experts in the field. Her consulting business, Hoffman Digital Media, has been involved in helping B to B and B to C businesses understand the social media space and how to use the tools available to enhance their marketing and communication with customers.
Photo credit: http://www.sxc.hu/photo/1341363