I am an antiquing and flea market junkie. Only my very close circle of friends and family know this about me. Recently while reading one of my favorite flea market find magazines, I came across a page that listed wonderful blog sites to find out about flea marketing, dumpster diving and what to do with all of the great "junk" you discover but don't know what to do with. I just had to check a few of them out.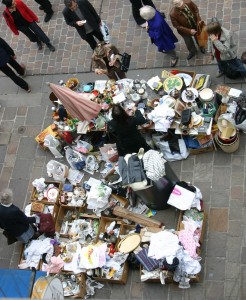 As I browsed these blog sites, I started to think about all of the astounding knowledge that can be shared on just one blog. I recently started to blog myself and found it quite liberating to put things out there to a like minded group of readers. Little challenges that I have come across in the business world, as well as fun facts or valuable information that I feel someone out there could benefit from, all are the fuel for my blog posts.
At first, I was not sure of the value of blogging; but, it is really fun and can bring people with the same interests from all over the country together to talk about their favorite topic, share ideas and build a community.
So next time you are pondering the question of whether or not to start a blog for your business or your hobby, think about the sharing and learning. It might just bring you closer to that one treasure that you thought should have gone into the trash.
Where do you find your inspiration for blogging?
Photo Credit: http://www.sxc.hu/photo/128240