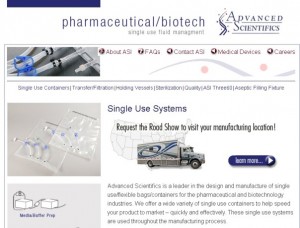 Date: 2009
Scope: Research, Technical Modifications, SEO
Website: http://www.advancedscientifics.com/
Overview: Advanced Scientifics had very little visibility for keyword phrases and they needed to help increase their visibility to their target traffic audience in an effort to increase leads and sales.
Dinkum Solution:
Dinkum Interactive assessed the current state of the site, implemented appropriate adjustments to the website, corrected some technical issues that were preventing the site from showing up in Search Engines.
Initially, Advanced Scientifics had under 1000 visitors per month in to their website in late 2008, and had limited ranking for 9 relevant keywords, none on page 1. Since then, traffic to the website has doubled, their page rank went from 3 to 4 and the Alexa Rank improved from 6,092,198 to 3,309,688.
Advanced Scientifics now has 17 keyword phrases relevant to their business on the first page of the three major search engines. With a significant increase in incoming links (now at 774; up from 177 a year ago) users trying to find "Disposable Medical Devices" or "Single Use Systems" through search engines, will be directed to Advanced Scientifics, helping to contribute to their bottom line.