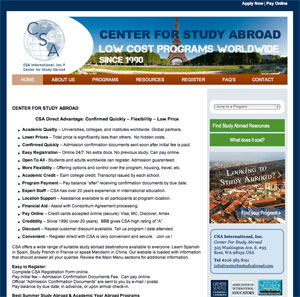 Date: Oct 2010
Scope: Website Redesign and SEO
Website: http://www.centerforstudyabroad.com
Overview: An outdated website and an increasing number of online competitors made upgrading an easy decision.
Company Needs:
Center for Study Abroad had an outdated website that was proving difficult to manage and lacked some contemporary features that would make their service offerings more useful for users. Their modest search traffic needed a boost and their website needed a reorganization to accommodate a growing list of programs.  With increased pressure from clients to provide online applications and payment processing as well as growing online competition, Center for Study Abroad decided that it was time for an upgrade.
Dinkum Solution:
As always with a tight budget, we look to solutions that fit best for every client. Leveraging the very capable WordPress platform ensured that we could keep costs slightly lower and management would be much easier by utilizing either our own management services or one of their own staff members.
With a new website launched and continued content management, we set about targeting their search traffic. While we saw a fairly quick bump in traffic initially, it was the sustained growth that really had the greatest impact.
In addition to including an option for accepting credit cards online, we set up goals to track applications and payments to help determine the overall impact of our work. Once again, we've seen steady growth in this area and it provides useful data that we can tap into on an ongoing basis.

Center for Study Abroad is now adding more programs to their inventory, more programs that we will be leveraging as part of their ongoing Search Engine Optimization campaign. They continue to use Dinkum Interactive's services and you can view the current Center for Study Abroad website.