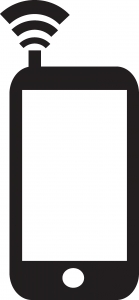 No doubt you're aware of the revolution taking place between you and your smartphone. To reinforce how pervasive and all-consuming these devices have become, check out these figures from Time magazine's poll on mobile use across the globe.
84% of people surveyed in the TIME Mobility Poll said they couldn't go a single day without their mobile device in hand.
1 in 4 people check their phones every thirty minutes and 1 in 5 check every ten minutes.
"It's hard to think of any tool, any instrument, any object in history with which so many developed so close a relationship so quickly as we have with our phones," Time Magazine's Deputy Managing Editor Nancy Gibbs wrote in the magazine.
"Only money comes close – always at hand, don't leave home without it. But most of us don't take a wallet to bed with us," she added, noting that a smartphone "can replace your wallet now anyway."
"There's a smartphone gait: the slow sidewalk weave that comes from being lost in conversation rather than looking where you're going," Gibbs wrote.
"Thumbs are stronger, attention shorter, temptation everywhere: We can always be, mentally, digitally, someplace other than where we are."
We're never far from our mobile devices – 75% of 25-to-29-year-olds said they took their phones to bed.
Other interesting statistics include:-
The number of mobile-connected devices will exceed the world's population in 2012
There will be over 10 billion mobile-connected devices in 2016
Monthly global mobile-data traffic will surpass 10 exabytes per month in 2016
Over 100 million smart-phone users will each consume more than 1 GB of data per month in 2012
Global mobile-data traffic will increase eighteenfold between now and 2016
Mobile-network connection speeds will increase ninefold by 2016
Two-thirds of the world's mobile data traffic will be video by 2016
Smartphones and tablets will only become more popular. The question you need to consider: what does your website look on a mobile device? Is it easy to access? Read? Navigate? Are your customers frustrated when they search for you through their phone?
Beyond its appearance and functionality, are you taking advantage of opportunities that this transition to mobile presents?
Many of Dinkum's clients have made the move to mobile for both phones and tablets. One client is MerchantPlus. When you visit their site through handheld devices, you'll see this on your screen.
As a provider of online mobile payments, it made sense for MerchantPlus to have a mobile-friendly site that's easy to read and use.
Another client to go mobile is Philabundance.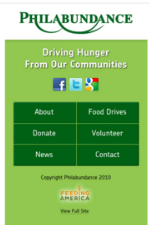 Robert K Kurtz Company has also made the mobile transition.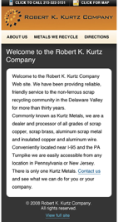 If you're ready to make the transition to mobile, get in touch with us here. You'll look perfect on the small screen in no time.
Photo Credit: http://www.sxc.hu/photo/1377498