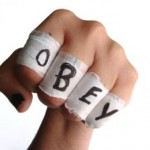 I recently received two automated emails from Dreamhost and CloudFlare that reveal the power of a well structured message. We've used Dreamhost in the past but have switched most of our hosting to Voxel dot Net and we're currently trialling CloudFlare. Here are the subject lines of the two emails:
Both are good automated transactional emails that seek further engagement with the company in question. The content, however, varied significantly.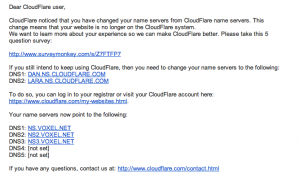 CloudFlare was a bit sad that I had switched my DNS to another location and "opted out" of their service. When the company noticed this, it reached out via email to learn from the encounter. Overall, a great thing. Dreamhost went far beyond CloudFlare. For them, it's a matter of success, not failure. They are positive, helpful, and confident.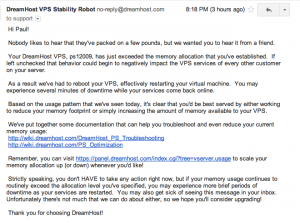 While it's important to be smart about your opportunities for communication and customer engagement, it's critical that your culture shines through. In my view, CloudFlare was helpful but a bit sterile. Dreamhost, on the other hand, was engaged and solutions-oriented, ready to help if I was 'man' enough for it. Does your company pack a punch in its automated emails?
Photo Credit: http://www.sxc.hu/photo/498916