This is a concept that we preach often at Dinkum, and most often we are referring to which social media channels might be best employed by the businesses we work with. There is no point in being on Twitter if all of your potential customers are on LinkedIn.
This weekend, I was presented with a unique twist on this phrase.  As I was running errands on Saturday morning, I pulled into the local gasoline station for a fill up. Since I live in New Jersey, I get to pop the release on the gas tank cover, roll down my window and say "Fill it up regular, please" and the gent at the pump does the rest. While this is transpiring, another tidily dressed gent greets me with a smile and informs me that they are doing safety checks on windshields, and he proceeds to check mine.  I recently had a chip filled in, which is covered by my insurance, but he found another one which he showed me.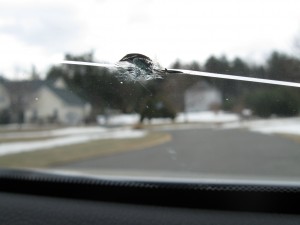 He then said that he could fix it while my gas was being pumped, and that it would be covered by my insurance company, with no problems.  Somehow, I must have agreed, because the next thing you know, he was doing his magic on the ding, calling my insurance company, and presenting me with the receipt. This took no longer than 10 minutes, the first few while my tank was filling.
I mentioned to him when the transaction was completed, that his business model was a good one. He smiled, said he wished he had thought of it, and moved on to the next car.
Thinking about this later, I marveled at the simplicity of the idea.  Where do people with cars go, especially on a Saturday morning while running errands? Fixing those windshield dings is something that often is only thought about when you get in the car, see the ding one more time, and tell yourself that you need to schedule that repair. Most times it is covered by insurance, as it is much less expensive to fix the ding than to replace the windshield.
That company is not on Twitter or Facebook, but they were at the gas station, where some of their customers were on Saturday morning. That is social media marketing that works!
Photo Credit:  http://www.sxc.hu/photo/1261883