Writers Block
Anyone who writes for a living, in any capacity, knows the term writers block. Dictionary.com defines it as "a usually temporary condition in which a writer finds it impossible to proceed with the writing of a novel, play, or other work."  Blogs fall into the other work category. Calling it work is truth in advertising!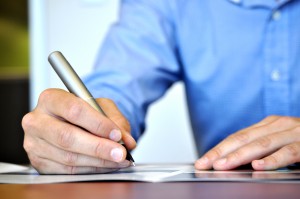 Blogging for your company falls into that category in two ways: it is work to write a blog and you are working to write the blog for, well, for work.
As an added bonus, you may be charged with encouraging your colleagues to post, which is a great way to share the work load, and to give voice to other processes and procedures that your audience will find valuable. Search engines find new content valuable, which then makes you more visible on the web. It's a win all around!
But back to writers block. This is not just a psychological phenomenon. It also occurs when there is a surge of business, and everyone is just too busy running the company and taking good care of the customers to thoughtfully and actively participate in blogging. It is tempting to put in on the back burner during these times with the intent of picking it up again later.
Possible Remedy
An interesting idea is floated in Tom Johnson's blog post Why is Corporate Blogging So Hard? His difficulties are fairly common, but his solution was active collaboration with his colleagues. He got ideas, uncovered a safe controversy or two, and re-energized his postings. Among the comments, I found another gem of an idea. The person commenting shared that they maintain various drafts of bits of information that can be fleshed out into posts at a later date, with more input or information. That's a great idea for maintaining a stockpile of possible posts for that inevitable dry spell when colleagues are too busy, and you are just plain out of ideas.
Blogs are too important to be relegated to the leftover time in the business day, but the reality is that current client needs take precedence over adding valuable content. Any ideas that make your blogging task easier to maintain will benefit your company, by keeping you in front of your audience.
How do you maintain your blogging schedule? Do you keep a backlog of posts to use during the busy season? Let us know in the comments, you may show up in a future blog post!
Photo Credit: http://www.sxc.hu/photo/1338212