We do it for our clients and regularly encourage them to look at their data always and often. Reading analytics tells a story about your business online and possibly a little about your business in general so it makes great sense to spend a bit of time with it. Of course we don't do it as often as we should for ourselves but it's about this time that I like to have a good look back at our data to see how the year played out online for us.
I'm always a little surprised at how well our site does given how much we neglect the poor thing. This ends up annoying me because I know we should leverage it more than we do and we even have the skills to do so. We get decent visibility, we get leads through it so we really should be pushing it more. Next year!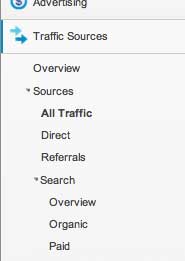 So a good place to start is to have a look where your traffic visitors are coming from. Go to Traffic Sources >> All Traffic and check through the list. Google is top for us but we've also got a few interesting sources like wplift.com, Facebook and tutorialswebdesign.com amongst others. Overall it tells us what we had been suspecting which was that we're not practicing what we preach. Our clients may be benefitting from our activities but we've been neglecting our own backyard. It's also surely a reminder of the pains that many of our clients have with internal resources.
So let's move on to your Search referrals. We don't do any Paid Search advertising so selecting the Search >> Organic is the best option. This is where you'll see some useful information. Maybe you'll be surprised at the keywords that are driving users to your website. For us, there are a few surprises. Phillies? Happy Birthday? Not so sure about those ones but "writing and seo" is a clear indicator that there is continued interest in that subject. Might be worth another post next year. Our "Open Source Face Recognition" post we suspected would do well given its interesting subject-matter and it has brought in quite a few users. These highly technical posts seem to be sought-after so it means our developers need to do more blogging! Then the "Marketing Companies Philadelphia" and "Internet Marketing Philadelphia" referrals make sense considering that's who we are and what we offer. While we have very little desire to go back to being an "SEO Company", we do know a lot of people are still searching for it so looking at this data may inspire such action. Or maybe we need to think about "Digital Marketing Company". For you it may mean narrowing your keyword focus or possibly making a shift. This is a great time to do a little more research.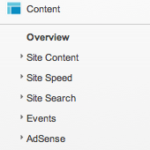 Another useful place to check out is the top content. This you'll find under Content >> Overview and will be a good indicator for what people are checking out on your website. For us the About section is the most popular so maybe we need to spend a little time curating this next year.
Finally, make sure to check through your goals. Conversions >> Goals >> Overview. This is where you'll see where your most effective channel. For some it may be a contact form or an email signup…a place where a visitor takes some action…a phone call if you're tracking it.
It's a great time to think about beefing up your data in general. Every year there are more weapons available to capture the right information to help direct your business planning and 2013 will be a big one for data. We'll be offering up our recommendations soon enough. Have a great rest of the year and look forward to catching up in the next one.