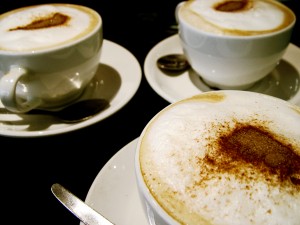 If you have visited a Starbucks coffee shop in the last year (and especially the last few months), you'll notice that a lot of people are paying with their iPhones and Android devices.  In fact, my local Starbucks cashier volunteered this morning that the company's mobile payment app had been used for some 25 million transaction in the past year.
Huh.
Now, I use the app and it works for me – it's convenient, already in my hand, and paperless.  No more rewards card swiping – it's all in one digital package!  However, I hadn't thought too much about what widespread adoption might mean for Starbucks' bottom line.  The answer?  A lot.
I  called up my brother, owner of leading online merchant account provider MerchantPlus, for some hard numbers.  He estimated that Starbucks was saving ten to fifteen cents per transaction – multiply that by 25 million transactions and you've sent about $3.75 million to your bottom line instead of to Visa, Mastercard, Amex and the various middlemen in between.
It works like this:
As a loyal/addicted Starbucks customer, I load $50 onto my Starbucks account via credit card.  One transaction.
As part of that credit card transaction, Starbucks will pay a percentage fee and a gateway fee (a nickel or more each time).
Then each time I visit my corner for a grande bold drip, I scan my payment with the app, and the $2.12 is deducted from my account.
Note that I can buy 23 cups of coffee without Starbucks incurring another gateway fee, saving them about $1.15 on my $50 worth of purchases.
Throughout this process, much like a gift card, I've given Starbucks a $50 interest free loan – imagine how many millions of dollars in liquidity they've acquired through this process?
So, not only does mobile represent a consumer driven behavior, in which adoption of smartphones is pushing retailers and organizations to adapt to the small screen – it's also an excellent business opportunity when adopted in a smart and active fashion.
[youtube]http://www.youtube.com/watch?v=or6U0GeZ4j0[/youtube]