WordPress is the single most commonly used CMS and blogging platform in the world, running over 18 million sites as of this writing (current stats here). Possibly more striking is that people actually use their WordPress sites! Today, for example, 486,000 posts were written and 400,000,000 words were cobbled together in about 120 languages (that's three times the number of words in the Encyclopedia Britannica written every day).
WordPress is a favorite among developers and SEOs because it's so powerful, flexible, and well developed/supported. However, it's a favorite among end users because it's simple to use. This is due in no small part to the wonderful User Interface (UI) created by the team at WordPress and Happy Cog.
WordPress continues to grow in features, and as such it's getting a bit harder each day to claim that it is truly a "simple" program to use for the average person. I tried this the other day during a training session for a newly launched website, and then proceeded to map out the various custom fields and settings needed for a common task that the user would need to perform (in this case, adding a new video for sale to the website, along with pricing details and such).
But in order to get the most out of WordPress, or simply to not feel confused at times, you should take the time to customize the system to your needs. Here are my top five tips for any person that uses WordPress to update their website: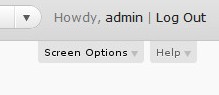 1. Screen Options – definitely don't ignore this little tab, which floats on the top right of your screen. For each section in WordPress (dashboard, pages, posts) you can customize some things. My favorite one is on the "Pages" section; make sure to adjust the number of pages to show on one screen. Even moderate sites can have more than 20, the default, and clicking through pages to find the page you want to edit it very annoying!

2. Change Your Name – WordPress is highly personal, since it was first developed for bloggers. This aspects threads itself throughout many WordPress sites, so it's good to click on your user profile in the top right of the screen and adjust some of the default settings, such as how to display your name, whether or not you prefer the plain text, or if you want to enable the new admin toolbar (yes, do it!).

3. Show the Kitchen Sink – Many users complain that they can't find the formatting tool they need because they didn't realize they could show (or hide) the "kitchen sink" of tools.
4. Use the full screen mode – Getting around to writing for your blog or website is difficult enough. Don't make it harder on yourself by letting your screen be a jumble of custom fields, publishing stats, and navigation settings. Click on the blue "Toggle Full screen Mode" to work on your post or page in a nice, clean environment.

5. Visit the Bar – WordPress 3.1, the latest and greatest version, includes a wonderful feature for websites that run on WordPress: the new admin bar. Once you login (and if you've not disabled the admin bar in your profile settings, see point #2), you'll be able to navigate to your site and gain immediate access to edit a page, post or other common setting from the top of your screen. No more search through pages to find what you want to edit or update.
Feel free to let me know about your favorite WordPress options and configurations, I'm always happy to discover something about this great system that I didn't know about before!