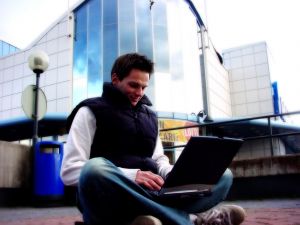 As the main contact for most of our clients during an ongoing campaign, I'm often asked to tag along with Rick Simmons to meet with prospective clients. We view the sales process as a two way street that's successful both for the client and for Dinkum. To achieve this, it's important to get a true sense of what a potential client does, how they do it, and what challenges they face.
Two years ago, it was rare to hear a client say "we're looking to hire an Internet marketing specialist in-house". Today, it's very common. Businesses, nonprofits, educational institutions, and even small start-ups know the Internet isn't a sideshow – it's often the main stage. Their instinct is to internalize that skill. The difficulty is finding someone who fits the bill because the Internet is a bigger, broader, and deeper environment than a single affordable (or even highly compensated) employee can master.
The Perfect Internet Marketing Employee
I recently asked a prospect to describe their "perfect" Internet marketing employee. They'd been searching for four months. Total resumes in the pile = 3. Those with all the skills – 0. This is what they were searching for.
Expert in SEO (onsite and offsite) including strategy, implementation, and ongoing efforts
Expert is social media marketing
Expert in Paid Search (PPC)
Expert in creative link building and article optimization and distribution techniques
Expert in analytics/tracking for accurate goal conversion tracking, A/B testing, etc.
Significant WordPress experience
Stays current regarding the latest trends and tools
$60,000-$80,000 base salary, plus benefits
I don't believe this person exists – at least not at the $60,000 plus benefits level. And if they do, they'll likely be gone in a year. As many of the prospect's resumes showed, talent in our industry can afford to jump around.
My Answer to the Question
I don't think the perfect Internet marketing employee exists. It's actually a matter of figuring out which skills are most needed on a daily basis, and hiring someone with those skills and outsourcing the other skills. We've seen this value proposition play out many times for our clients, where it's cheaper AND more effective to hire a team of skilled Internet marketers than harness that skill in-house.
What's the Future?
In a few years, this might not be the case. For instance, you can find and hire great web or print designers. Maybe once the evolution of the Internet slows down we'll see a similar situation. My prediction is we'll continue to need a diverse set of talents and personalities within an Internet marketing campaign, and that companies will continue to hire agencies/teams or become more adept at building internal teams for this critical marketing need. It won't be too different to the Bell Labs and HP Labs models that have driven technology innovation for a half century. WalMart Labs anyone?
Photo Credit: http://www.sxc.hu/photo/427091