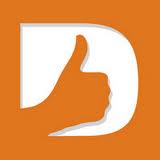 In the past, when something especially important happened to a client, Dinkum Interactive used to send them a batch of homemade cookies. And they weren't just any cookies but decorated with the Dinkum Interactive logo.
The cookies became one of our more effective marketing tools generating buzz, smiles, feedback and more. For a business like ours that relies on referrals and long-term partnerships, this is a huge asset. Notice that we didn't send clients a nice email or gift certificate to iTunes. We sent them something "offline" – homemade cookies "just like mom used to make".
A New One to Watch
Our business (and the Internet) has evolved – we've become a "fully integrated" marketing company. When it comes to marketing, what matters is what works. If that effort is direct mail or a sandwich board at the corner, we'll do it.
A few months back we started rebranding our company, mainly because the Dinkum Interactive of 2006 was very different to the current and future Dinkum Interactive. Our new logo plays with the idea of social media and communications and we've been happily stamping this new identity everywhere from email signatures to Rick's car. The harder (and yet more exciting) challenge was actually developing our new business cards. Working with the fabulous Meg Fentzloff, we designed a card that was crisp, clean, minimalist and striking. To take it to the next level, we worked with Colleen Walsh at www.cleanwashletterpress.com and her seriously cool collection of vintage printing machines.
We ended up with a card that is tactile with great paper, natural textures, blind emboss and crisp letterpress. We'd love to know what you think about it.
In this increasingly online world, it's important to remember the right offline strategy still plays a role.