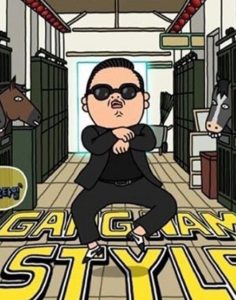 You know you've made it when MC Hammer wants to share the stage with you at the American Music Awards. And share he did with Korean YouTube sensation, PSY – they went Gangnam-style in front of an appreciative audience.
Not sure what I'm talking about?
In July this year, Korean artist, PSY, released a song that went viral on YouTube called 'Gangnam Style'. He's been traveling the globe ever since performing the catchy song with equally catchy horsey dance. Except for lyric 'Hey, sexy lady', the song is in Korean and is apparently a parody of newly rich Koreans aspiring to an affluent Western-style life.
The video has had 700 million views since July.
Let's deconstruct the sensation and speculate what's made it such a success.
Parody Chic
When I first saw the video, I laughed. It had the feel of a parody. PSY doesn't look like a pop star but a comedian pretending to send up pop music. He wears reflector glasses and is a bit chubby. He's more like the nerd at work who puts on a show at the Christmas party with complete understanding that we're laughing at him. It's outlandish. The video is funny – with references to the usual music video tropes – the dancing girls, the dancing boy, the silly sauna scene. He's having a lend and we like it.
Catchy Tune
Perhaps this is even more important. Even though most of us don't know the lyrics because it's sung in Korean, the tune sticks in your head. The chorus is essentially two notes and a bit of rap. But it's amazing how you find yourself inadvertently humming those two notes over and over and over again. Kids love it. Adults love it.
Catchy Dance
It's been dubbed the 'horsey' dance. Like a child's pretend horse (the converted broom), PSY clippety clops with a hand swirl to imitate riding a horse. Anyone can do it (witness newscasters across the world), you know you look silly, and that's the whole point. We like having fun and not taking ourselves too seriously. The number of parodies of the parody clip is testament to this.

The Anti-Pop Star
PSY is the last person you'd expect to be a pop star. He's so regular-looking. He's one of us. When MC Hammer does the horsey dance, it looks completely different – and impossible to mimic. PSY looks totally accessible.
I know there's a huge team behind making something that goes viral. But at the heart of it, I think the reason it's successful is it's humorous – gets your attention – and you want to share it. Keep this in mind when creating content for a mass audience.