Most of the Dinkum team is in a philosophical frame of mind – including yours truly – since working on an eBook for our clients. Luckily, we have a lot of exciting client work (and Dinkum work) to do which means there's little chance I'll be re-reading my college library of German existentialism or attending late night poetry jams.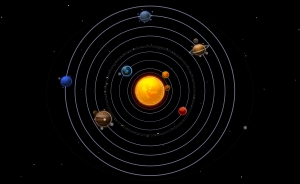 Jokes aside, compiling this eBook has been an incredibly productive process for us. The aim was to chart the 2012 course for our clients. Even though each client has a unique set of challenges and opportunities, we were looking to highlight overall trends and shifts. In our industry, it's important to balance your efforts in the face of changing and evolving marketing outlets.
My theme for the eBook was 'focus'. In particular, how to focus on your most important long term asset – your website. My analogy is that your website is the center of your universe – one that's constantly expanding. Every day, there's a new 'star' such as Pinterest or Google+ to keep up with.
Juggling these new platforms is nearly impossible. But you have to accept that your universe is EXPANDING ALL THE TIME. Why? Because your marketplace and your customers are exploring new outlets, new ways of sharing, and communication. If you want to be in their space, you have to travel. The tough part is the balancing act, with most organizations with finite human and other resources. You can only do so much.
One element you can't get wrong is your website. You can always make it better, faster, cleaner, and more responsive. Test it, troubleshoot it, look at it critically with fresh eyes. Try it on mobile devices, tablets, televisions.
I might sound a little old school talking about websites. After all, isn't this the Facebook generation and a text message world? At Dinkum, we say "not so fast." Should you be active on social media? Yes, more than ever. Should you have a consistent video presence on YouTube? Of course. However, if you're doing your job right, this interaction drives traffic to the one property in this universe you have control of: your website.
With Facebook soon going public, and recent filings showing they're diligently working on how to best monetize the 850 million user entity, one thing is very clear. Facebook isn't about you. It's not about your business or your friends. It's about Facebook making money the best way they (and their shareholders) see fit.
As such, we're guiding our clients to invest more, not less, in their websites. As your universe expands and you reach out on new outlets or with new tools, we want you and your business to confidently point your customers back to a gleaming home base that you're confident is performing at its best. Your website.
Photo Credit: http://www.sxc.hu/photo/1337360