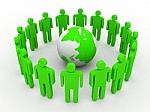 If you think you're too busy for social media, think again. The days of one-way communication are slowly falling away in favor of engagement. Many business owners we meet say they don't have time for social media – that it's too time consuming. This can be true, but social media is where the conversation is being held. If a comment is made about your business on Facebook, Google+, Yelp, or Twitter  – good or bad – you don't want to miss the opportunity to respond. So, how can your company use social media without it taking over your life?
•Set Up A Schedule. Carve out 15 minute chunks within your day to check social media and respond. These chunks can be while you're taking a coffee break or after eating dinner. They don't need to be during prime time hours.
•Use Your Blog for Long Form Responses: Any good social media plan starts at "home" on your site where you own and control the content. Ensure your blog is regularly updated and is relevant content for your clients.
•Set Up Brand Pages: It takes a bit of time initially, but once your pages are set up on Facebook, Twitter, YouTube, Google+, Linkedin, and Yelp, you can easily update them. It's not as hard as it sounds.
•Figure out who your audience is and follow them on these networks.
•Determine relevant content for your business is and keep an eye out for articles, videos, and other multimedia that you can share with your audience. Note: If you source content from elsewhere, which is perfectly fine to do, mention your source.
•Set Up An Editorial Schedule: Work out when you will blog, post and engage on social media. Stick to this schedule. Consistency is king. If you post on a regular schedule, people will know when to look out for your insights.
•Don't Be Afraid To Share Your Opinion. If you're a cook and you read an article on cooking that you don't agree with, share your opinion. Just remember, keep it clean and professional.
•Play to Your Strengths: Don't be afraid to outsource social media if you don't want to look after it. The key element is having a presence.
When you get into the routine of social media, it becomes an interesting way to engage with your audience. You never know what you might discover.