Some clients ask a lot of questions, some just go along for the ride. Sound familiar?
I prefer clients who want to understand the Search Engine Marketing journey and who take the time to ask questions as they come up. These clients are often, although not always, more engaged and better partners in their campaign. Many times this is the difference between a campaign that has a hard time getting off the ground, and one that is more successful.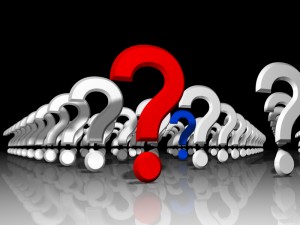 As in any human communication, there are frequently unasked questions lurking behind the ones that are given voice, and the person doing the asking may not be aware of them.  In a lengthy conversation with a relatively new client, I explained about general keywords and long tail phrases, why it is important to focus on a smaller number of phrases that will result in highly targeted traffic to the new site, and other basic SEO type information.  The client then wanted to understand how search engines knew to look for his site, and I started in on an explanation of XML site maps and spiders and internet competition.
Then he asked a very telling question. Will someone who is running a small business and creating and managing their own site know about how to communicate with the search engines to let them know how to find the site? This is a much deeper question, and of course there is not a pat answer here.  None of the things that Dinkum does is very secret, and information on SEO and all related topics are available on the internet for anyone who cares to read up on them. I know this, and the client knows it now, too.
What he was really asking is, "What is Dinkum going to do for me that will set me apart from the other sites on the web with similar offerings? How will you make me unique, and get me found?" Even more basic is the underlying question of, "Why should I pay you to do what I can learn from the internet?"
That is the important question to answer here! I needed to explain everything clearly and in an understandable style so the client was comfortable with the idea that he can take care of his business, and Dinkum is there to help him by doing the hard work of making his site visible on the web and help him to understand that the years of experience that we have enables us to take advantage of opportunities to promote his site when changes in the online world occur, as they inevitably do.  Answering the detailed technical questions is a means to enhance the trust necessary in this relationship to give this campaign the best shot at being successful.
The next time a client is peppering you with questions, take it as the opening to creating a trusting, mutually beneficial relationship. Earn their trust by knowing and being able to explain how you are going to help them be the best they can be. And always listen for the questions not asked when chatting with your clients.
Photo Credit: http://www.sxc.hu/photo/1238327