When a friend was awarded 'Tech Of The Quarter' by his employer, he redeemed his prize as a Staples gift card and planned to use it to get a new cell phone he'd seen on their website.
A few days later, with gift card in hand, my friend visited Staples to make his purchase. He was surprised to find they didn't stock the phone he wanted in store and was told he could order it online and that they would be happy to place the order for him. It wasn't ideal – delayed gratification isn't as much fun – but he agreed. At the kiosk, the sales associate couldn't figure out how to accept the gift card for the purchase. The suggestion? Try ordering it online at home and call the help desk if you have a problem.
My friend figured it was worth a try so he went home, logged on, and the site promptly crashed. He called customer service, who were aware of the problem and were working on it. A few hours later, with the site back up, he tried to purchase the phone with his gift card but couldn't figure out how to enter the details. We're talking about a Staples gift card on the Staples site! He called customer service and they couldn't figure it out either.
His next step was to use the gift card to purchase Visa gift cards to complete the purchase. It turns out you can't use a gift card to purchase a gift card. Hmmm.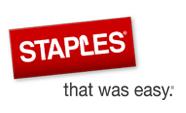 Armed with information from email and Twitter help desks, my friend went back to the Staples store. The sales associate followed the advice but it didn't work. Another tried and failed. Even the manager gave it a shot. No luck. They finally figured out that the phone was being sold through a Staples partner site which is why the gift card wasn't being accepted. Bottom line? There's nothing they could do to complete the sale on the Staples site, with a Staples gift card.
The manager gave the phone number for Corporate Customer Relations. Guess what? They are only available from 9 to 5. That's right, working hours. So you can only call them if you don't work.
In a fit of frustration, my friend walked across the street to a big box store and bought the phone for half the price offered at Staples. They cheerfully ported his data to the new phone and activated his new two year agreement. Now, all he has to do is sell the gift cards since the experience turned him right off Staples.
Every Staples sales associate and manager did their best to resolve the issue. But the brand is damaged – it has a black eye. At no point did Staples indicate a partner arrangement on its website. Each page of the checkout process featured the Staples tag line "that was easy." No, it wasn't. It was impossible.
Photo credit: http://www.sxc.hu/photo/1185407