It's a crowded, noisy market. Sure, you've honed your niche and offer a solid product. But what should you do if the guy down the road has a brighter neon sign? Websites are your shop-front. You want people to step inside, take a look, buy things and come back again. The question to consider – are you doing the same old thing or bursting onto the scene like Carmen Miranda? When Carmen arrived in Hollywood from Brazil, she brought color, movement and her famous fruit hat. She stood out from the crowd, becoming a massive star in the process. What internet marketing lessons can we learn from the woman who wore a giant pineapple on her head?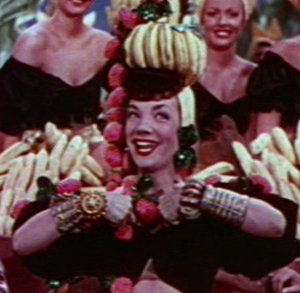 What's your fruit hat?
Life was a little grey in 1939 when Carmen stepped into the limelight. The US had been through the Great Depression and WWII had started in Europe. Audiences were ready for some joy, excitement and pizzazz. It was ready for Carmen's tropical colors and jubilant music. What's your fruit hat? How will it bring color and life to your market? Does it have the right combination of oranges, bananas and apples?
Identify what's distinctive about your fruit hat
Carmen Miranda was entirely distinctive bringing a fresh look and sound to the market. If you think about any successful musician, they have a distinctive sound. When you hear them sing, you can instantly identify them. It's the same in marketing. You need to identify and promote the unique features of your product – or yourself. What's special about your bananas?
Use the right fruit on your head
With any marketing, you need to know your market. You need to speak their language and be relatable. Don't wear a pineapple on your head if it doesn't suit your audience. I remember dismissing a web video because the speaker wore bunny rabbit ears just to get my attention. The ears didn't relate to her message and simply annoyed me. Don't get attention for attention's sake. I've been pleasantly stunned by the audacity of some web videos. Two women promoting an online sales seminar dressed up and mimed to Lady Gaga http://rhhbschool.com/blog/music-video . It's 'out there' but suits their audience of twenty-something go-getter women. If your audience wants apples, don't give them oranges.
Deliver on your fruit hat promise
If you want audiences to come back, you need to deliver on your promise. Carmen Miranda had the talent to match her outfit. She wasn't faking it. She could samba like there was no tomorrow. Make sure your product is market ready and you are honest about the deliverables. The fruit should be ripe and tasty.
It's time to get tutti frutti.