During the last few months, Dinkum has been working with its favorite business consultant
Steve Smolinsky
to help move the dial on our growing company from "good" to "great."  To call Steve a consultant, however, is a bit of a bland misnomer – he's more of an entrepreneurial Yoda, nurturing our startup-inspired energies into grand master skills that drive success in our business and for our customers.  Yup, he's that good.
A big component of Steve's system (called EOS – Entrepreneurial Operating System) is learning how to run a great meeting.  Sound boring?  Well, it's actually not!  Most of us spend a good amount of time in meetings, but rarely do I walk out of one feeling like we accomplished what we could have.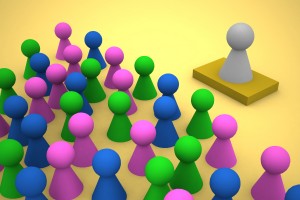 Each week, in addition to ad hoc meetups, Dinkum holds two regular meetings: a partner meeting each Monday morning, and a mid-week project team meeting on Wednesday afternoons.  The Wednesday meeting (scheduled in the late afternoon to accommodate some time zone issues that crop up when our Australian partner heads south each February for a month) is about reviewing all of our current projects across the entire team, helping to generate ideas and keep things moving on all fronts.
After applying some of the tools taught by Steve in our EOS sessions, our meetings have grown easier and more productive.  In fact, everyone seems to look forward to our weekly project team meeting now, as it enables us all to do better work more easily (especially appreciated during this busy time of year!).  So, what are the tricks?
Start on  time, end on time.  This might seem obvious, but it rarely happens.  In my previous life as an orchestral musician, you always started on time and when the clock hit the dot, everything stopped (mid phrase!).  I had never thought to apply the same structure to my business career, but it makes total sense – a bit of discipline and structure goes a long way.
Use the same agenda structure every week – no more "what are we talking about today?" or "I have to complain about something so let's start off with my project".  Instead, we follow a format that gives us time for everything we need: introductory chit-chat, progress reports on our weekly and quarterly goals, a chance to share project happenings (good or bad) that everyone should know about, and a forum for resolving issues.
Streamline and stay focused – in the EOS model, if an issue crops up, simply put it on the "issues list" – a holding pen of sorts that allows you to stay focused on the task at hand even as new challenges crop up.  "Put it on the issues list" is a very relieving statement – instead of stopping the flow and dissecting an issue immediately, we trust that it will be handled at the appropriate time.
When working through issues (there are a lot of them!), the process is equally simple: IDS.  Identify the Issue, Discuss the Issues, and Solve the Issue.  What's the catch?  You can only bring factual information that you yourself have on hand into an issue.  If you don't have the facts, assign someone to get the facts and bring them to the next session – but don't waste time and energy discussing something without the information to solve it.
Task list – As a result of the issues discussion, a task list is developed and shared which impacts the next seven days.
What's great, in my mind, about this process is that it has a rhythm – a very predicatable and stable rhythm, which supports the whole team.
Just like with a large symphony orchestra, it's the pulse and rhythm that keeps the operation running smoothly and producing outstanding results.  Lose the pulse and everyone is guessing and checking, getting confused, or piling on top of each other.  With a solid pulse, which this meeting structure helps to provide, each employee or team member (a virtuoso no doubt) can apply his or her skills and perspectives as needed, without all of the disruptions.
Imagine if a symphony orchestra stopped every one or two minutes to adjust its approach to the music, or so that the 2nd bassoonist could voice his opinion on a phrase, or for the principal cellist to retune his strings.  They would never get through the piece, let alone produce wonderful music.
So, give this a try at your next team meeting – it may take some practice to get right, but the results might surprise you!
Photo Credit: http://www.sxc.hu/photo/991932