Embracing online marketing for companies who are used to doing it all offline can be daunting. You're looking around. Getting not insignificant quotes for upgrading your very dated website that you feel really hasn't brought you any business over the past few years anyway. When it was launched, you thought it would bring customers scrambling for your business/products/service. But it didn't and fairly quickly you turned your back on it, and kept doing what you know is effective: mailers, trade shows, promotional products, networking, cold calling. You've been doing it for years, you know how to do it and you know that it works.
But you also know that to be doing everything you can to capture new prospects, you really need to be considering all channels, and your colleagues and partners are all suggesting that it needs to be online. Still, the previous missteps are fresh in your mind. You spent a lot on your website. You spent some decent dollars trying out Google Adwords. And you don't even want to talk about the whole Social Media fiasco of 2013.
Doing It Right
Here at Dinkum, we've encountered this scenario with clients quite a few times over the years. While these campaigns are each unique, a recent project reminded us that our approach in taking a company that is willing to commit to the potential of digital marketing, still works. Doing the research, being thorough and doing it right from beginning to the end of the campaign creates the right result.
As a business owner or the employee who recently had this responsibility thrust upon them, hiring a company or resource to raise your business from its online doldrums can be daunting and full of uncertainty. This is one example.
The Situation
Client in the HVAC space had a relatively new website (within the previous year) and while they were aware that it had its issues, the most notable thing for them was the lack of activity on it.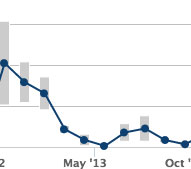 It's not uncommon to see a performance decrease following a new website launch. But even if there was very little performance originally, low visibility and lack of performance are still a detriment to a business. If this continues for several months, there is definitely a bigger problem. There are plenty of reasons why this happens but mostly it just means that the web developers or web dev company doesn't know (or sometimes doesn't care) how to do a site transition and too often during a site build, SEO is not even part of the equation. We get it. It can be pretty painful and a lot of extra work but we also understand the long term gains and that a few critical steps can save a lot of headaches.
The Analysis
Given that we've been doing this for a while now, a lot of issues are pretty obvious to us straight away. However, we always begin a project with an assessment to make sure we review everything and document our planning process. For this we look at a lot of data points including the following:
Meta Data
Broken Links
Page Speed
URL Structure
Duplicate Content
IP Neighborhood (we like Majestic Neighborhood Checker – red flags would be websites that may be spammy)
Primary domain name (either www or non www)
Incoming links
Referring domains
We also look at current keyword performance. For that we like SEMRush. If you have access to Google Webmasters you may be able to see some additional details there, and some partial info via Google Analytics.
It is also important to look at the competitors to see how they're performing. SEMRush is good for that as is OpenSiteExplorer. Some really like the clarity that Quicksprout provides for this data.
For this particular client, the foundation was especially shaky. The website performance was the main issue. A purchased WordPress theme that was especially slow, zero keyword strategy which lead to zero keyword performance, a weak local presence,  a slow shared server, low number of backlinks and many of those were from the same website all contributed to low visibility and activity. Not pretty, but a good candidate for our services. They came with a good reputation and strong business model and leadership which also helps.
The Plan
Keyword strategy – all good plans start with a keyword foundation. Google offers their Keyword Planner. If you're looking for some keyword ideas the http://keywordtool.io/ is handy
Website – getting the right person to do the job can be the biggest challenge here. Not all developers are created equal and not all consider the value of different digital marketing benefits that a well crafted website offers. As we discovered with the current client website, there were a lot of roadblocks so in this case it was back to the drawing board. There are some useful resources and checklists for reference: Moz has a useful one and Google also offers up some tips.
Local – with multiple locations, this client needed to pay some attention to their local profiles. A useful start is to head to Moz Local. We make sure to pay particular attention to the Google Local profile.
The Results
While overall growth is a good goal, we do target organic growth which is the long-term sustainable type. It's the type that performs year over year and will very often show up an online advertising campaign that's costing you $20K a month but bringing in a quarter of the customers. Yeah that's the type we really like.
As we mentioned earlier, it can be a bit unreasonable to expect instant Organic growth but it certainly shouldn't take months. For this client, it took about a month before it started to hit its stride.

Keyword rankings should generally be taken with a grain of salt and not obsessed over. For us it offers a point of reference and a rough performance gauge. This is where we saw the greatest movement even in the first month. Typically we'll see Bing start to move first and will show pretty steady movement, Google will soon follow but it's usually a little more dynamic initially before performance really kicks in. You can see the timeline below with an initial burst following launch in March, continued initial growth in the following months followed by a dip in July and then a massive surge August through to November. It's a classic campaign trend.

We don't obsess over the rankings and encourage our client not to either, but we certainly still see it as a critical performance metric. In the end though, our goal is to ensure contribution to the bottom line. With increased inquiries and strong business performance, we chalked this one up as yet another success story and another reminder of the positive impact of doing it right.